In Our Plants and Distribution Centers
Manufacturing
Frito-Lay has more than 30 highly advanced manufacturing plants across the country, where we convert things like corn and potatoes into delicious snacks for our consumers.
Packaging Machine Operator (PMO)
If you're selected for this job, you'll be the quarterback of the manufacturing floor team, ensuring quality and consistency in every package! You'll be setting up and operating the machines, taking our chips fresh out of the fryer or oven, and ensuring they get into the correct packaging to then be sent to stores.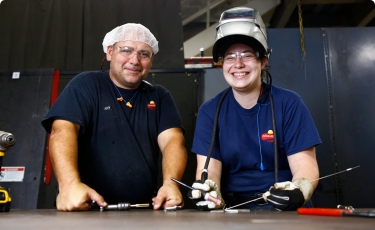 Maintenance Mechanic
In this job your role is critical in keeping the plant machinery running smoothly. You'll perform preventative maintenance throughout the facility, as well as troubleshooting and repair when critical issues arise with production machinery. The job is fast-paced and involves solving complex problems!
Sanitor
As a Sanitor, you are the key to food safety at Frito-Lay! This role is critical in our business. Sanitors clean and sanitize the manufacturing equipment to ensure consumer safety. All machines have a regular cleaning schedule, as well as special cleaning that happens between product changes (think Cool Ranch Doritos to Nacho Cheese Doritos) to ensure potential allergens and seasoning are completely removed before producing a new product.
Packer
Packers are responsible for constructing boxes and packing them full of Frito-Lay products. They work to ensure quality of the product and accuracy of the labels, as well as help to keep the packaging area clean. Packers are an important part of the manufacturing team!
Distribution Center
After our delicious snacks are made and packaged, they are shipped to one of our 34 distribution centers, where they can be routed to retail stores for the consumer to purchase and enjoy!
Warehouser / Material Handler
As a warehouse employee, you will have multiple duties that help Frito-Lay meet the high demand for our delightful snacks. This position needs someone who thrives in a fast paced, dynamic environment.